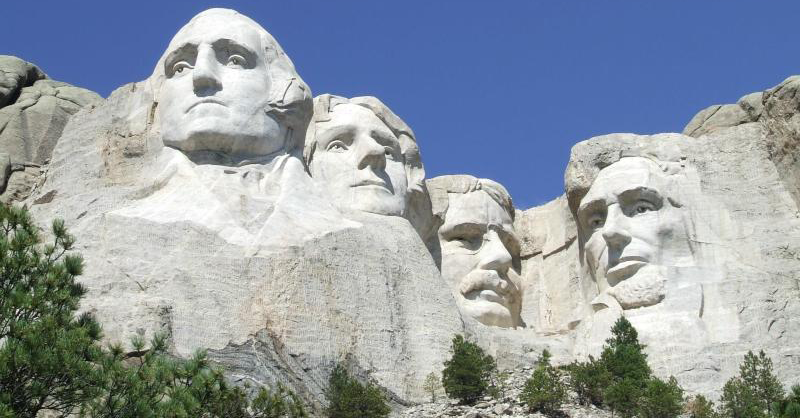 One of America's most instantly recognizable landmarks turns 75 this year.
Mount Rushmore--which features faces of four presidents carved into a cliffside--embodies our grandiose ambitions and literally etches the nation's face into the Earth.
"Mount Rushmore showcases art on a grand scale. And it defines the ingenuity, vision and tenacity of determined men and women who saw the project through," said Diana Saathoff, executive director of the Mount Rushmore Society, a nonprofit that's hosting events at the park throughout 2016.
South Dakota's most famous attraction features visages of George Washington, Thomas Jefferson, Theodore Roosevelt and Abraham Lincoln gazing over the state's Black Hills region.
The project began before the Great Depression and ended a little more than a month before the attack on Pearl Harbor saw the United States enter World War II.
John Gutzon de la Mothe Borglum began sculpting Mount Rushmore in 1927 and James Lincoln de la Mothe Borglum--his son--oversaw its completion after his father's death in 1941. 
To see a calendar of events related to the anniversary, visit www.MountRushmoreSociety.com.
Random facts about Mount Rushmore:
The park hosts an estimated 3 million visitors per year.
Not a single death occurred during the 14-year project that employed 400.
Dynamite did 90 percent of the work. Jackhammers and chisels handled the fine detail, while explosives removed roughly 450,000 tons of rock.
Each face stands 60 feet tall.
Original plans put Thomas Jefferson's face on the end opposite George Washington, but the granite's weak structure forced a change. Crews dynamited Jefferson's face 18 months into the project and carved it next to Washington.
Gutzon Borglum started work on a Hall of Records behind Abraham Lincoln's image. Borglum wanted the mountain to house national relics like the Declaration of Independence and Constitution.
Source: www.VisitRapidCity.com
BONUS: Mount Rushmore's concept inspires intriguing discussions in other areas. Ask friends who occupies spots on their "Mount Rushmore" of  greatest athletes, musicians, artists and so on.