About
Your vehicle is your lifeline to the work, safety, family and entertainment. Quick Lane Baltimore Tire and Auto Center can help make sure it is running in peak condition.
A safe, reliable vehicle takes the worry out of your routine auto maintenance and auto repair. Quick Lane Baltimore employs ASE-certified technicians to keep you on the road whether you're traveling in Middle River or on a road trip across the fruited plains.
The Quick Lane Baltimore Tire And Auto Center Promise
Quick Lane Baltimore offers competitive prices and quality service. What does that mean to you?
"Lowest price" does not  necessarily mean "best price" when it comes to the quality and reliability and your vehicle service. Our team is dedicated to getting your auto repair done right the first time. We provide competitive prices with quality workmanship from auto service professionals.
We also use quality parts that last longer and perform better. Cheaply made, inexpensive parts do not provide the same guarantee of service life and performance.
Tires and More Tires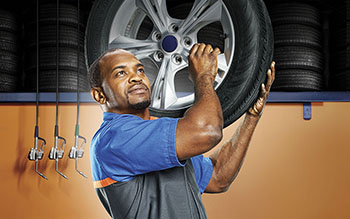 Give us a call before you drive down to the nearest warehouse store for your next set of tires. You'll be pleasantly surprised by our competitive prices and variety of brands. 
All tires are not created equal. Our tire pros know how to fit the right tire to your vehicle requirements and your driving habits.
Take a look at these tire recommendations:
Do you drive frequently along snow-covered roads? Consider a pair of snow tires designed for in freezing weather.
Want a sports-tuned tire? Ask about our summer tires for the driving enthusiast in your soul. These are designed for high performance vehicles.
Rain and sunshine? All-season tires may be the best fit. These often are called all-season or three-season tires, and they are the choice of thousands of commuters. They are the top choice for most cars especially in spring, summer and fall conditions.
Some of our quality tire brands:
Goodyear
Continental
Michelin
BF Goodrich
Yokohama
See our tire page for more information and specials. TIRE PAGE

All Makes and Models
No matter what type of vehicle you own, we've got you covered. Do you drive a Ford? Chevrolet? Toyota? Nissan? Honda?
We can help keep it on the road and running in peak condition. Quick Lane Baltimore is your one-stop shop for routine and factory-recommended maintenance. We also meet the requirements for vehicle warranty repairs.
Got a question about your vehicle? Simply give us a call. We're happy to help.
Motorcraft and Omnicraft Parts
Quick Lane Baltimore uses Motorcraft and Omicraft parts built to meet rigorous standards from the original equipment manufacturer. 
Motorcraft is a global parts manufacturer dedicated to making high quality replacement parts for the automotive aftermarket. These parts are designed to meet specifications of original equipment manufacturers. That means they provide the fit and performance expected of the original part.
High quality parts such as Motorcraft can help reduce total cost of ownership by providing better performance and longer service life. They also include a two-year manufacturers warranty (ask for more details).
Motorcraft products include the most common repair and replacement parts such as brakes, belts, hoses, filters, spark plugs and batteries.
The Omnicraft brand is a sister company to Motorcraft. It also offers a wide range of replacement parts designed with the fit and performance of original parts. Omnicraft parts extend the Motorcraft line-up to a wider range of vehicles and also offers a two-year warranty.
About Our Quick Lane Baltimore Team
Service you can trust starts with a professional staff dedicated to keeping your vehicle on the road. Our team looks beyond basic maintenance to help prevent long-term problems.
Our staff includes ASE-certified master technicians, the industry standard for automotive service professionals. ASE is a highly recognized authority on automotive service and repair. It operates rigorous training courses and provides the gold standard for automotive service certification.
Our highly trained service professionals handle all basic maintenance from brake repair to battery replacement to new tire installation.
No guesswork. No assumptions. No surprises.
Our car care services are performed by certified experts and no appointment is necessary. See why our customers come from Baltimore, Essex, Rosedale, White Marsh and beyond trust us when it comes to routine maintenance.
We use high quality Motorcraft parts and lubricants that meet or exceed factory-standard lubricants. Our tire center offers top brands including Goodyear, Continental, Michelin, BF Goodrich and Yokohama.
See why life is better in the Quick Lane!
Routine Maintenance and Factory-Recommended Services
The Works package, which includes a synthetic-blend oil change, tire rotation and a multipoint inspection that lets you and your service advisors know exactly what your vehicle needs moving forward.
Our technicians offer these services for your vehicle:
Air Conditioning System
Alignments
Alternators & Electrical Service
Batteries
Belts & Hoses
Brake Services
Cooling System Maintenance
Lamps & Bulbs
Oil Change & Essential Maintenance
Suspension & Steering
Tires
Transmissions
Exhaust repair/replacement and inspections
Emission service
Vehicle safeties/certifications
Vital fluid service/exchange/renewal
Vehicle Check-Up Report
Wiper Blades
You don't need an appointment at Quick Lane Baltimore, but recent stay-at-home regulations have affected vehicle service procedures. We recommend giving us a call beforehand.

Our shuttle service can drop you off at home or work until your vehicle is ready.Conveniently Located For Service While You Shop
Quick Lane Baltimore services vehicles from throughout the Baltimore region. Our auto repair facility is located Middle River, Md.
We're conveniently located off of Highway 40, also known as the Pulaski Highway. We offer shuttle services for commuters who are traveling to jobs in the White Marsh area or from White Marsh to their businesses in other areas in and around greater Baltimore. 
Are you a resident of Nottingham, Rossville, Middelsex, Aero Acres or Marsh Estates? Stop by to meet our team--Quick Lane Baltimore is your neighborhood auto service and repair location.
Planning a trip to Costco Warehouse at Costco Plaza in White Marsh? Visiting the Home Depot in White Marsh? Knock out two chores at once.
You can complete your vehicle for maintenance and oil change services while shopping. Just ask about our shuttle service to and from the shopping center.
Do you work at or near the Pulaski business Park? Quick Lane of Baltimore is a stone's throw away, and our shuttle services can give you a lift to work.
Quick Lane Baltimore offers 10 service bays dedicated to fast, routine maintenance such as tire replacement, battery replacement and oil change services. Another 27 service bays on-site handle more involved maintenance and repair.
Count on Quick Lane Baltimore to complete your regular maintenance and warranty repair quickly and efficiently. Our repair shop offers you a modern, clean and inviting atmosphere. 
Location
9801 Pulaski Highway, Md. 21220
Service Hours
M-F: 7am to 5:30 pm
Sat: 7am to 12 pm
Sun: CLOSED
Phone
(443) 227-5878
Body Shop Hours
Monday–Friday: 7:30 am to 5:30 pm
Saturday and Sunday: Closed